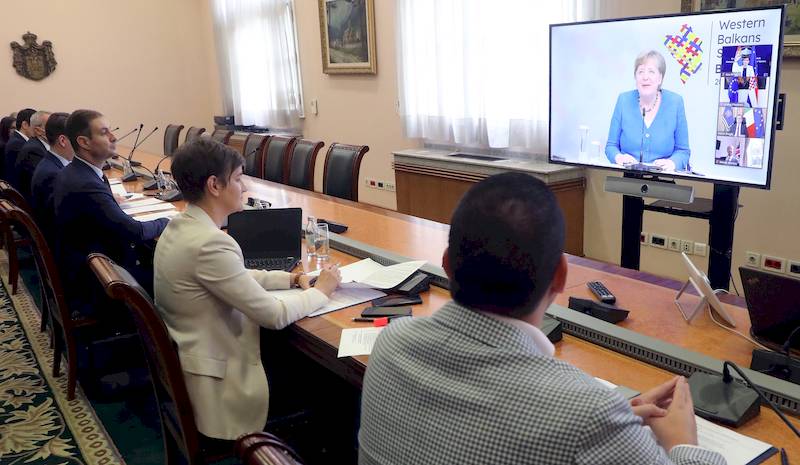 Prime Minister Ana Brnabic participated today in the online Summit of Leaders of the Berlin Process, which discussed the concrete results achieved during its seven-year term, plans for the next period and initiatives aimed at providing support Western Balkans on its way to the European Union.
The focus of the summit was on building a common regional market related to four fundamental freedoms: free movement of people, goods, services and capital, for which the Action Plan was adopted in November last year, and from which the region would have special benefits.
The summit said that the transport and energy infrastructure has been expanded in recent years and connected to the roads of the European Union, and praised the implementation of the agreement on the abolition of roaming fees in the Western Balkans, which began this month.
An important project of the process is the Regional Office for Youth Cooperation (RYCO) in order to connect and build understanding and tolerance i the region.
The activities of the Regional Cooperation Council (RCC) and the Secretariat of the Central European Free Trade Agreement (CEFTA) were also praised for their efforts to implement the Common Regional Market Action Plan.
Assessing that the Berlin Process is firmly based on the fundamental belief that the economy of the Western Balkans is part of Europe, German Chancellor Angela Merkel pointed out that it greatly contributes to stability and connecting the Western Balkans redion, which is also in the interest of the European Union.
In her address today, Prime Minister Ana Brnabic thanked Geman Chancellor Angela Merkel for her strong support and active approach to regional cooperation.
Thanks to the support of Germany and Chancellor Merkel, but also to the internal initiatives of the representatives of Serbia, Albania and North Macedonia, the Prime Minister explained, the implementation of the Action Plan will enable further expansion of economic and trade cooperation in the region, which will make it more attractive for foreign investors.
Brnabic pointed out that Serbia strongly supports the Berlin Process, not only for the purpose of economic development of the region, but also as an idea of connecting and unifying the Western Balkans and its approach to the European Union.
She concluded that support in the region was particulary visible through solidarity with neighbours during the pandemic and assistance with vaccines and medical equipment.
The summit, opened by German Chancellor Angela Merkel, was attended not only by representatives of the region, but also by Slovene Prime Minister Janez Jansa, European Commission President Ursula von der Layen, Austrian Chancellor Sebastian Kurz, French President Emanuel Macron, Italian Prime Minister Mario Draghi and Polish Prime Minister Mateusz Jakub Moravjecki and Secretary General of the Regional Cooperation Council (RCC) Majlinda Bergu.
Source: www.srbija.gov.rs
Photo: www.srbija.gov.rs