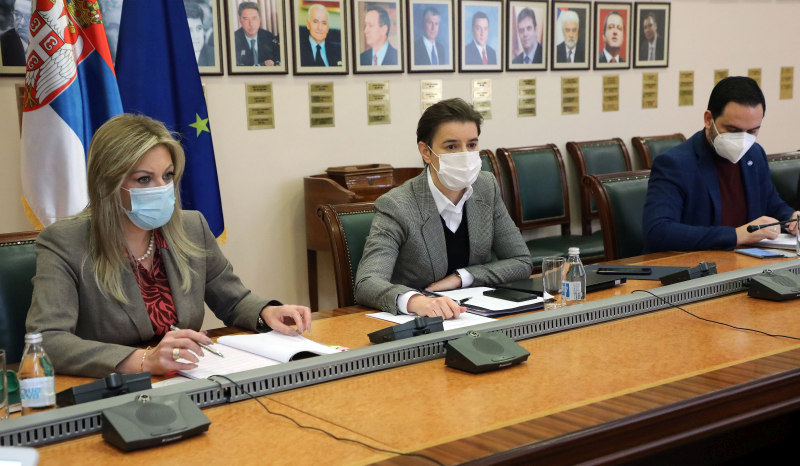 The Serbian government stated that at a meeting of the Stabilisation and Association Council between Serbia and the EU held today, the overall progress achieved in Serbia's accession negotiations so far was commended, as well as the adoption of an improved enlargement methodology that should accelerate Serbia's EU accession process.
The participants in the meeting exchanged opinions on the current political and socio-economic situation in Serbia, and above all on the further dynamics of negotiations on EU accession, cooperation within the Common Foreign and Security Policy, as well as regional cooperation in the Western Balkans.
Accordingly, they welcomed the fact that the new government has placed European integration, preserving public health and economic growth, as well as normalising relations with Pristina at the top of its priority list.
At the meeting held via video link due to the pandemic, the Serbian delegation was led by Prime Minister Ana Brnabic and Minister for European Integration Jadranka Joksimovic.
The EU delegation was headed by High Representative of the EU for Foreign Affairs and Security Policy Josep Borrell and European Comlmissioner for Enlargement Negotiations Oliver Varhelyi.
Borrell especially expressed gratitude for the participation of Prime Minister Brnabic, which is not the usual format, but which unequivocally shows how much importance the Serbian government attaches to the Stabilisation and Association Agreement and Serbia's European path.
The internlocutors discussed current relations between Serbia and the European Union, primarily the process of Serbia's accession to the EU, as wel as political and economic criteria, harmonisation of domestic legislation with the EU acquis, as well as the implementation of the EU pre-accession assistance.
The EU representatives reiterated the EU's commitment to Serbia's European future and called for proactive and strategic communication between Serbia and the EU.
During the meeting, they also talked about the way in which Serbia is facing the consequences of the COVID-19 pandemic, both in terms of resolving the health crisis and in overcoming the consequences for the economy in general and the implementation of reforms.
The participants agreed that good neghbourly relations and regional cooperation are key elements of the enlargement rocess, and to that end welcomed the continued dialogue between Belgrade and Pristina ande Serbia's consistent commitment to the process.
The EU representatives welcomed Serbia's significant contribution to miltary missions and operations, as well as Serbia's participation in EU battle groups, stressing the importance of further deepening cooperation on foreign policy issuse.
The participant in the meeting also supported the Common Regional Market, launched by Western Balkan leaders at a summit in Sofia on 10 November, and recalled that the Western Balkans Economic and Investment Plan, adopted by the European Commission on 6 October 2020, provides a comprehensive framework to support economic convegrence of Serbia and the EU region.
Belgrade, 17 December 2020