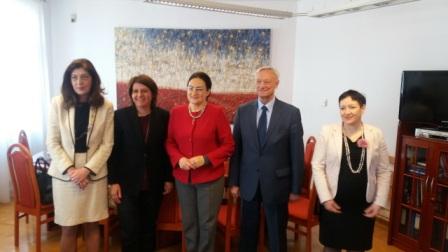 Political consultations between Ministries of Foreign Affairs of the Republic of Serbia and the Republic of Poland concerning European integration and bilateral cooperation were held in Warsaw, on 20 April 2016.
The Serbian delegation was headed by Assistant Minister of Foreign Affairs for the EU Ambassador Marina Jovicevic, and the Polish delegation was headed by the State Undersecretary in the Ministry of Foreign Affairs, Katarzyna Kacperczyk. During the talks, the Polish side confirmed its support of Serbia s EU integration, expressing readiness to extend its assistance along that path.
It was noted that the bilateral realtions between Serbia and Poland were good, without any outstanding issues, while efforts were made to further intensify this cooperation, as well as mutual contacts. Bilateral cooperation in other areas was also discussed, focusing on economic cooperation which has been marking an upward trend over the last three years.
In addition to the meeting in the Polish Ministry of Foreign Affairs, Assistant Minister Marina Jovicevic and her delegation also had a meeeting with Ms. Izabela Kloc, Chair of the EU Affairs Committee, Sejm of the Republic of Poland, where issues related to European integration and bilateral parliamentary cooperation were dealt with.